1. What is debt settlement?
It is an option by which you can reduce your debt amount. Thus, debt settlement (debt negotiation or debt arbitration) allows you to pay much less than what you owe.
2. Is debt settlement a good option?
Debt settlement is a good option in the sense that it reduces your total debt amount. However, it drops down your credit score. The effect will be maximum if your credit score is good and minimum if your score is poor.
3. What kind of debts can you pay off through debt settlement?
You can mainly pay off unsecured debts such as medical bills, payday loans, credit cards, department store cards, etc.
4. How does debt settlement work?
The debt settlement company negotiates with the creditors to settle your account with a fraction of amount of what is owed. Creditors may have to accept a reduced payment and forgive the debt rather than risking it to bankruptcy or insolvency. You can also directly contact the creditors to settle your credit card debts.
5. What are the advantages of debt settlement?
There are lot of advantages of debt settlement:

a. Debt settlement requires less time, you can regain financial independence within 12-36 months. This might lead you to think about a fresh start early.
b. This gives you a flexibility in payments. If you do not have a fixed monthly income, then you have the liberty to modify your monthly payments.
c. You can avoid creditor harassment when you enroll in a settlement program, you may no longer have to deal with creditors directly.
d. You do not have to bother to pay multiple creditors simultaneously and missing payments. Under the settlement program, you need to make one monthly payment to the trust account.
6. Will debt settlement affect my credit score?
Being in debt has already affected your credit score negatively. Settled accounts or zero debts can be considered positive as compared to unresolved debts.
eBook
Still scratching your head about debt settlement? Here's your solution: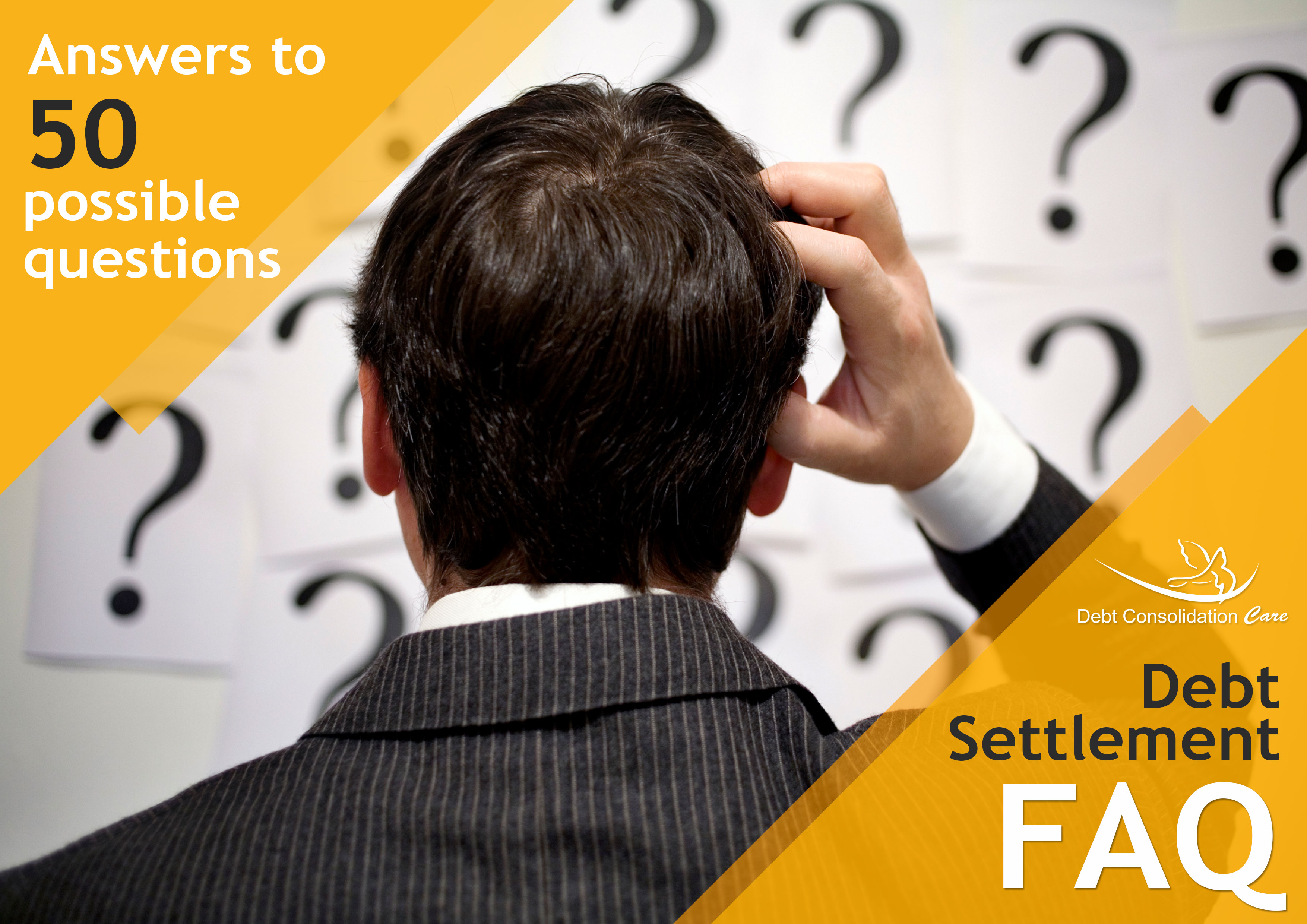 Download for FREE
7. Why do creditors agree to settle debts?
Creditors find that it's profitable to settle debts rather than selling them off to collection agencies at a comparatively lower price.
8. Can my wages be garnished?

Debt settlement does not use a fixed procedure, so anyone having knowledge about finance and interest rates can try to settle debt. Having a control over finances is important. It's difficult for people who lack negotiation skills because it requires to maintain direct contacts with the creditors. You should be ready to handle harassment calls. It might lead to a lot of pressure. Hence, it's better to go to a professional debt settlement firm with good reputation.
9. Is debt settlement a better choice than bankruptcy?

Bankruptcy should be considered as the last resort option undertaking many things in mind. Your bankruptcy will be shown in your credit report for upto 10 years. It's also a matter of public record. Any work or job that requires your background check might get affected. The effects of bankruptcy are unavoidable, but you can manage your finances even after debt settlement.
10. Can you be too optimistic when talking over the phone?

It is a good thing to be optimistic over phone. If the creditor doesn't accept your settlement offer, then you have 2 options:
(i) Wait till the creditor accepts the settlement offer
(ii) Make a fresh settlement offer after sometime