In America, health insurance providers ask their customers to mention their body mass index on the application forms. So, it's advisable that you should apply for health insurance policy when you're healthy and fit. Thus, you can get lower premium rates on your health insurance. Insurers are taking a higher interest from the customers who have obesity due to the greater medical risk associated with it.
However, there are many factors on which the premium that you pay on your health insurance depends, such as, the amount you pay as deductible and the state of your health. The more you pay as deductible, the lesser you have to pay as premium. If you're fairly fit and fine without any chronic diseases or signs of ailments, then your health insurance premium will be lower.
So, you should be fit and healthy to get a lower health insurance premium.
Read more: 8 Ways you can save dollars on health care cost
An overview of obesity and overweight among adults, children's and adolescents
According to the JAMA (Journal of American Medicine) report, more than one-third of American adults are obese. And, this is the main reason of some leading diseases like stroke, heart problem, type 2 diabetes. Cancer and so on. Whereas childhood obesity is another major problem in the USA that needs Government's attention too.
| Adults age 20 years and above are obese | Adults age 20 years and above are overweight | Adolescents age 12-19 years are obese | Children age 6-11 years are obese | Children age 2-5 years are obese |
| --- | --- | --- | --- | --- |
| 35.1% | 69.0% | 20.5% | 17.7% | 8.4% |
How does obesity affects health insurance premiums?
A report by fightchronicdiseas, obesity cost will grow higher by $344 billion by 2018. According to the Reuters report in 2012, obesity is the main reason for spending 190 million dollars in every year.
However, based on the report of fightchronicdiseas, enhancedinsurance has presented a narrative table to understand the obesity effect on health insurance premium. Here it is: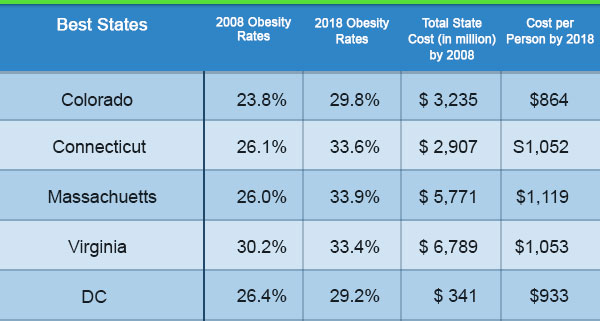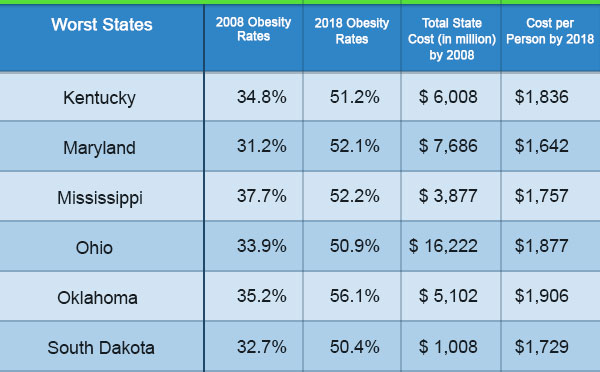 SOURCE: enhancedinsurance.com
So, it has been clear that a person who is overweight should pay more monthly premiums than those whose body index mass (BMI) is lower.
How can you be healthy to get lower premium rate?
Remember, some health issues are unavoidable. Many diseases are hereditary as well like diabetes, color blindness, Alzheimer's, and so on. But, there are many other health issues like obesity that can be avoided by maintaining a healthy lifestyle. If you take control on your intaking alcohol and lose excessive weight to make yourself healthier and prevent sickness, then the costs of your health may decrease. So, why don't you start following a healthy lifestyle to add some extra money to your pocket?
These are the steps that you can take to improve your health and decrease your health insurance costs:
1. Give priority to health
Remember, all insurance policy premium costs will be decided by the health issues that you pose. For instance, if you opt for an auto insurance policy, then the premiums will be calculated on the basis of your car, your driving nature, and so on. Similarly, . Your weight, cholesterol level, blood pressure are some factors that the insurance provider will check before calculating a premium. The more health issues, the premiums charged will be higher. So, you should take care your health to reduce health care costs.
Read more: Health is wealth: Health Care costs a major challenge for the retirees
2. Craft a proper diet and follow
You should eat good food to maintain a healthy body. Thus, you need a balanced diet to stay fit and active. Don't overeat. It causes obesity. Again, don't reduce your food intake so much that you suffer from anemia. Include fresh vegetables, fruits, and protein in your daily diet to fulfill nutritional requirements.
3. Avoid stress
Try to reduce stress as much as possible in your life. Maintain a routine for daily actions so that you don't have a lot of work left. . You should find some time for your own self, no matter how busy schedule you have.
Read more: Are you Taking an Unnecessary Gamble on your Health Insurance?
4. Drink lots of water
Drink at least 8 ounces of water every day. Drinking water can hydrate your body. You can include juices in your diet to remain hydrated.
5. Smoking and drinking? No-no
Smoking and drinking give birth to many diseases. It increases the health care cost as well. A non-smoker is charged fewer premium rates compared to a person who smoke. You must quit this habit to save your precious life as well as your hard earned money.
6. Get enough sleep
You should get full night's rest that is at least about eight hours to boost your strength and energy for everyday activities.
7. Eat breakfast regularly
Many people skip their breakfast due to the busy schedule. They don't know that they're starting the day with a mistake. Yes, skipping breakfast is a bad practice and can cause health issues. According to the doctors and nutritionists, one should have a proper heavy breakfast regularly to gain energy to function throughout the day.
8. Ditch your favorite snacks
Ditching snacks can be very tough but you must try to avoid intake of snacks as much as possible. Chips, fries, fizzy drinks, and pizzas contain a high amount of fat and can create health issues. and try to avoid snacks no matter how delicious they are.
9. Do regular exercises
Nothing keeps your body fit as much as exercising does. .
Read more: Medical budgeting: Cut down the sky high cost of prescription drugs
10. Take part in weight loss programs
To fight back with obesity and the sky-high health insurance cost, you should participate in a weight loss program. There are many weight loss programs available that can get covered under the health insurance programs. .
Final thoughts
Weight loss and overweight lead to health issues; most of the health insurance programs consider them as a risky medical concern and charge higher premiums. So, you should be careful with your health. You should take a regular vitamin, iron and calcium supplements by consulting a doctor to remain healthy. Do workouts and yoga to increase your body's immune power as well. Care your health and the tension of high premium cost will automatically reduce.