Hello there guys! At last the fall is here. In the Fall season, the prominent part is, leaves not falling from trees but becoming colorful. It's the best time for loving some good recipes which can express the flavors of this holiday season. Halloween is coming, so get ready with fresh pumpkins for "spooktacular" carving! But apart from the decoration, indulge your taste-buds and try one of these delicious pumpkin recipes at your home. Hope you and your family will love it :)
I have separated 3 main categories: 1. Breakfast, 2. Lunch and dinner and 3. Desserts
A. Breakfast
For breakfast, we have something special. Let's have a look:
A pumpkin banana smoothie that'll freshen up your mind like a tasty pumpkin pie. But it'll also give you the benefit of good health.
*Preparation time: 6 min. approx.
Ingredients for 4 persons: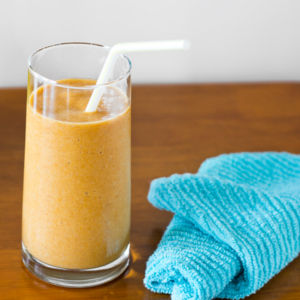 2 cups fresh pumpkin puree
2 bananas
2 scoops vanilla protein powder
4 cups almond milk
2 tablespoons Chia seeds
1 cup crushed ice
2 teaspoons pumpkin pie spice
4 teaspoons agave
cinnamon
Instructions for making:
Except the cinnamon, put all the ingredients in a blender and mix it until it gets smooth.
Use cinnamon as topping and your drink is ready!
Let's have a choco-bread with the hint of fresh pumpkin.
*Preparation time: 60 min. approx.
Ingredients for 3 loaves bread: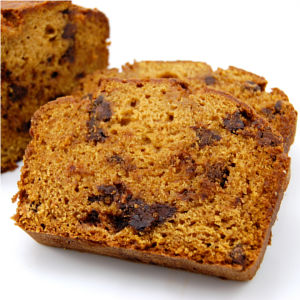 3 1/2 cups flour
1 tablespoon ground cinnamon
1 tablespoon ground nutmeg
2 teaspoons baking soda
1 1/2 teaspoons salt
3 cups granulated sugar
Fresh pumpkin
1 cup canola oil
2/3 cup water
1 teaspoon vanilla extract
4 large eggs
1 cup semi-sweet chocolate chips
Instructions for making:
Preheat oven to 350 degrees F. Use cooking spray in three 9x5 inch loaf pans.
Take the flour, cinnamon, nutmeg, baking soda, salt and mix together in a medium bowl. You can use 2 tablespoons of pumpkin pie spice to replace the cinnamon and nutmeg.
Mix sugar, pumpkin, canola oil, water, vanilla, and eggs in a larger bowl until it gets smooth.
Slowly prepare the flour mixture through blending and fold in chocolate chips. Evenly divide the batter between the three loaf pans.
Bake for at least 60 minutes or until browned. You can check it with a toothpick too. Remove loaves from oven and cool it for 15 minutes. Use a knife, go around the bread and loosen the loaves. Don't slice the loaves until they get fully cool.

Yes… It's done :)
Let's make thin crust pizza with a new angle. How about pumpkin, nutmeg, Gouda cheese, and crispy sage? Delicious!
*Preparation time: 15 min. approx.
Ingredients for 2 pizza (4 persons):
# For the pizza dough: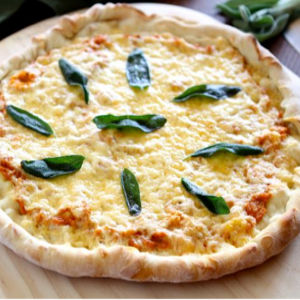 4 2/3 teaspoons rapid rise yeast
2 cups warm water
Pinch of sugar
7 cups Gold Medal Better For Bread Flour
2 teaspoons salt
2 tablespoons olive oil
Cornmeal for spreading on pizza peel
# Pizza Toppings:
Some canola oil
20 fresh sage leaves
2 cups pumpkin puree
2/3 teaspoon ground nutmeg
Salt and black pepper
4 cups shredded Gouda cheese
Instructions for making:
To make the pizza dough:
Take a glass or cup or small bowl, combine yeast and 1 cup warm water. Add a pinch of sugar and wait for 5 minutes.
In the bowl of a stand mixer, add the flour and salt. Mix the ingredients until combined.
Add the yeast mixture to the flour mixture. Next, add 1 tablespoon of olive oil. Mix until combined. Switch to the dough hook and knead for about 5 minutes on medium speed.
Spray a large bowl with cooking spray. Form dough into a ball and place in the bowl. Cover pizza dough with a damp towel and set in a warm area to rise. Let the dough rise for 1 hour or until the dough has doubled in size.
While the pizza dough is rising, fry the sage leaves. Heat 1-inch canola oil in a small pan over medium-high heat until surface is shimmering slightly. Add a few leaves at a time and cook until crisp, but still bright green, about 30 seconds. Transfer to a paper towel to drain. Season with salt.
Preheat the oven to 500 degrees F or as high as your oven will go. If you have a pizza stone, place the pizza stone in the oven to get hot.
Cut the dough in half. Take one piece of dough and punch it down on a lightly floured surface. Using a rolling pin, roll the dough out into a circle. Place the pizza on a pizza peel or pan that has been generously coated with cornmeal.
In a small bowl, mix together pumpkin puree, nutmeg, salt, and pepper. Spread pumpkin mixture evenly over pizza dough. Top with Gouda cheese.
Place the pizza in the oven-directly on the pizza stone, if using one, or on the oven rack. Bake for 10-15 minutes or until pizza crust is golden and cheese is melted.
Remove the pizza from the oven and place crispy sage leaves on top. Let the pizza cool for a few minutes and then cut into slices and serve warm. Note-this pizza is also great with Gruyere cheese.
B. Lunch and dinner
Now let's make few heavy food preparation for lunch and dinner.
Hot and spicy beef with pumpkin and beans. It's good for health and also for your taste buds!
*Equipment:
You can use a 3.5, 4 or 5 Slow Cooker for making this item.
Ingredients for 6-8 people: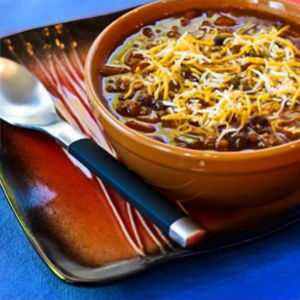 2-3 teaspoons olive oil
1 lb. ground beef
salt and fresh ground black pepper
1 medium onion diced
1 green bell pepper diced
1 tablespoon minced garlic
1 tablespoon ground cumin
1 tablespoon chili powder
2 teaspoons ground Ancho chile pepper
2 teaspoons dried cilantro
1 teaspoon dried oregano
2 teaspoons Spike Seasoning
2-4 oz. diced green Anaheim chile peppers
3 cups homemade beef stock
1 can (15 oz. can) red kidney beans, rinsed with cold water
2 cans (15 oz. cans) black beans, rinsed with cold water
1 can pumpkin puree
2 cans petite diced tomatoes with juice
grated cheese for serving
sour cream for serving
Heat a small amount of oil in a large heavy frying pan, add ground beef, season with salt and fresh ground black pepper, and cook until the beef is well browned. Add browned meat to the crockpot.
Add a little more oil to the frying pan, add diced onion and green bell pepper and cook 2-3 minutes, until the onion and pepper are just starting to soften. Add minced garlic, ground cumin, chili powder, ground Ancho chili pepper, dried cilantro, dried oregano, Spike Seasoning and diced green chiles and saute a couple minutes more. Put the onion mixture into the crockpot, then deglaze the pan with the beef stock and add that to crockpot.
While onions and peppers are cooking, drain the beans into a colander placed in the sink and rinse with cold water until no more foam appears. Add beans to the crockpot. Add canned pumpkin and diced tomatoes with juice.
Stir the mixture to combine ingredients, then cook on high for 4-6 hours, (or 8-10 hours on low) stirring a few times if you're at home.
Serve hot, topped with grated cheese and sour cream. This chili will be even better after it's been in the fridge overnight, and also freezes well.
Smooth like honey, best for your appetite and for your health.
Ingredients for 2 people: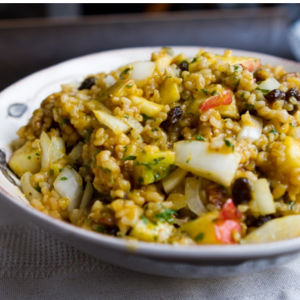 1 3/4 cups cooked brown rice
1 cup canned pumpkin
1 1/2 tablespoons apple cider vinegar
1 small honeycrisp apple, diced
1 small sweet onion, chopped
1 tablespoon parsley flakes
2 tablespoons organic raisins (golden or purple)
1/2 cup walnuts, unsalted
1-3 tablespoons maple syrup
1/4 tablespoon cinnamon
1/4 tablespoon fine pepper
2 tablespoons olive oil
1/2 tablespoon salt
1 cup warmed chickpeas over top (optional)
Instructions for making:
Prepare brown rice - set aside in large mixing bowl.
In a small bowl, combine the pumpkin, maple syrup, cider vinegar, spices. Warm in the microwave. Mix well. Add this mixture to the warm brown rice. Fold until well distributed.
Prep your apples and onions by dicing.
Fold into the rice mixture: raisins, apples, onions, walnuts, olive oil, parsley flakes and salt to taste. Top with optional warmed chickpeas.
Serve warm or keep in the warm oven until ready to serve. But do not over-heat. You want the apples and onions to still have a crispness to them when you serve.
Other optional add-ins: nutritional yeast, truffle oil, cayenne, cubes of butternut squash or sweet potato.
C. Dessert
In the end, a nice dessert recipe will complete the list.
Indulge your sweet tooth with a mouth-watering, dual-flavoured ice-cream.
Ingredients for 2 people (1 quart):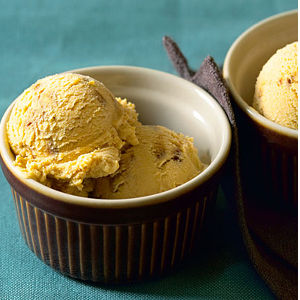 2 cups whole milk
4 teaspoons cornstarch
1 1/4 cups heavy cream
2/3 cup sugar
2 tablespoons light corn syrup
1/4 teaspoon kosher salt
3 tablespoons cream cheese, softened
1 cup pumpkin puree
1 teaspoon ground ginger
1 teaspoon cinnamon
1 teaspoon vanilla extract
1/2 cup coarsely crushed gingersnaps
2 tablespoons bourbon (optional)
Instructions for making:
In a bowl, stir together 1/4 cup milk and the cornstarch; set slurry aside.
In a 4-qt. saucepan, whisk together remaining milk and the cream, sugar, syrup, and salt; bring to a boil over medium-high heat. Cook for 4 minutes; stir in slurry. Return to a boil and cook, stirring, until thickened, about 2 minutes.
Place cream cheese in a bowl and pour in 1/4 cup hot milk mixture; whisk until smooth. Then whisk in remaining milk mixture.
Add the pumpkin, vanilla and spices.
Pour mixture into a plastic bag; seal, and submerge in a bowl of ice water until chilled.
Pour mixture into an ice cream maker; process according to manufacturer's instructions.
Transfer ice cream to a storage container and freeze for about 2 hours.
Remove ice cream from freezer and stir in the crushed gingersnaps and bourbon. Put ice cream back into the freezer and continue to freeze until scoopable, 2 1/2 hours and up to 1 week.
Check out: Is it tough to make Christmas cookies? 5 Easy to make recipes