Passing through a divorce, losing a spouse, or a bad marital life is always a matter of utter grief. But, you've to keep the grief aside and take charge of your own financial life to build a solid financial future.
It is not easy to manage a new financial life single- handedly. There are many challenges like managing unexpected expenses, saving for retirement days, and much more. If you have a responsibility for your kids after a divorce, then the challenges are even tougher, as you've to manage your life and your kids. But, ignoring personal finance just after a separation from your partner can take an adverse turn very soon. So, you must be alert.
After entering into a new single life, you don't want to make any blunders that can make the situation even worse. When it comes to money, you need to be more careful before stepping forward.
Check out these financial mistakes as well as their easy solutions to come out of the bad phase of your life.
Mistake 1: Not determining expenses
Living within your means requires a thoughtful planning. Otherwise, you'll never be able to curb your expenses. Determine the expenses and check how much money you need to cover those expenses. Also, . Tackling money can be difficult at the beginning, but you should try to track your spending as soon as possible. Don't ignore it. Otherwise, things can go worse in the near future.
Read more: Single parents and their purses: Strategies to fatten that up
Solution: How can you determine your expenses?
Calculating and determining expenses are a big thing that most of the people fail to do. You can take help of this spreadsheet for a better result. Check it out: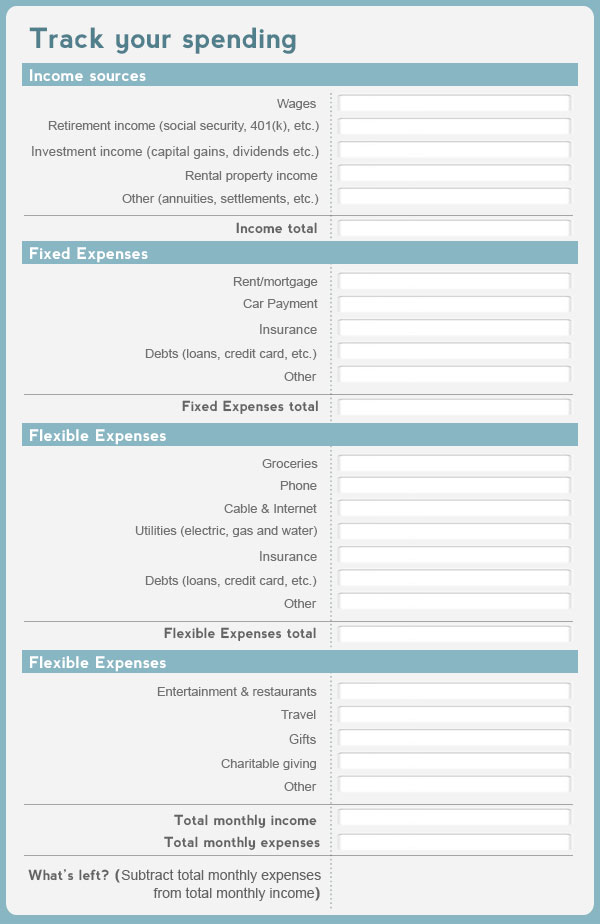 SOURCE: wellsfargo.com
Mistake 2: Not following a budget
After determining expenses, you must formulate a budget, and start following it. Why should you do it? It's because living a lavish lifestyle depends on your income stream. You may love to lead a lavish lifestyle. But, make sure you can afford that lavish lifestyle with your own income.
A separation can give you a lot of freedom, but if you waste your money unnecessarily, then that expensive lifestyle will cost you dearly.
However, even a good income stream needs good management. If you just spend all the money that you earn without putting a pause, then you'll be in a debt trap soon. That is why budgeting is important. To avoid financial problems and to live a lifestyle that you want, you must follow a budget. Following a budget can help you to track on spending as well as it helps to set aside some money for the future. Moreover, if you have kids with you, then you need to be very calculative.
Solution: How can a newly single parent formulate a budget?
A well-made budget is an ultimate saviour especially if you're a newly single with kids. Just use this printable budget spreadsheet made by the Richsinglemomma, and get started after viewing the demo provided on the website.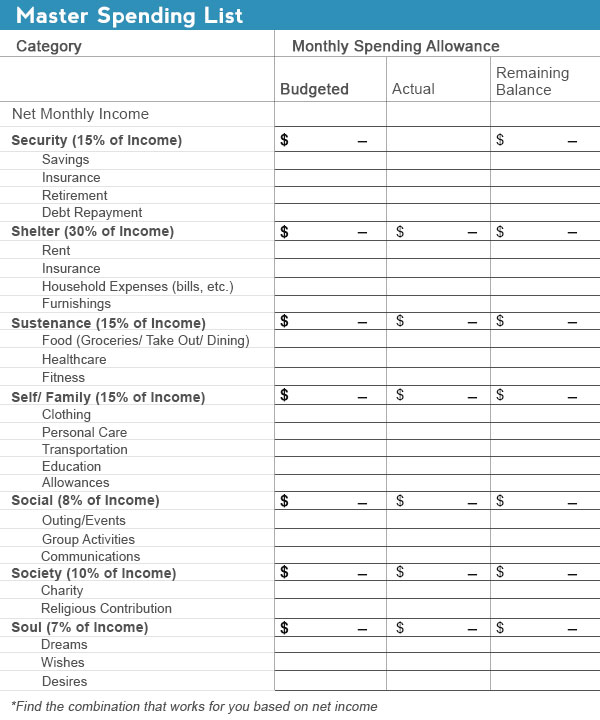 SOURCE: richsinglemomma.com
Mistake 3: Not making investments
If you have got a huge wealth after a divorce, then invest some money before wasting it on another issue. But, if you've less idea about investment and not sure where to invest, then don't make a rash decision. Otherwise, you may face a loss of capital. Before making any big financial decision, especially an investment, you should have sound knowledge of it. However, .
Solution: How can you get knowledge on investment?
Investment is a good option to grow your money, but, there are many things to learn. The investment market is related to the current economy. So, you must be updated and educate yourself before investing your hard earned money. A wrong investment can ruin your financial health. To learn about investments, you should read financial journals, websites, and magazines. Here is a checklist of top 5 websites where you can learn about investments:
Websites where you can learn about investment
Mistake 4: Not reviewing credit reports
Ignoring credit reports after starting a single life often leads to an insecure future. , . If you don't take necessary steps to correct the mistakes in your credit report, then after a certain period of time, your financial health would suffer. You'll no longer get approval for a loan, credit, even a good job. Remember, a good credit score is important to secure a good financial future.
Solution: How can you check your credit report?
According to the Federal Law, you can get the credit report each year from the 3 credit reporting agencies Experian, Equifax, and Transunion. If you're one who is always in doubt about checking credit report, then you must check these websites to get your first credit report for free.
Where you can get free credit report
Mistake 5: Not saving money
This is one of the biggest mistakes that can lead to financial disaster. You can never predict the future. So, you should be prepared for emergencies to avoid incurring debts at higher interest rates. You should save at least 50% of your earning. Divide the money according to your needs and keep it in your savings account, retirement plans, and other emergency funds. Having enough savings will help you in the long run.
Must read: How a single mom survives within $42K
Solution: How can you start saving money?
Saving money needs your determination. This is the main reason people find it hard to get motivated about saving money. However, setting a savings goal can make it easier. How can you set your savings goal? Here you go:
Set your savings goal

Step-1
Name your goal
Step-2
Negotiate for a raise
Step-3
Build a budget
Step-4
Calculate how much money you can save each month
Step-5
Set up a direct debit or automate your finances
Step-6
Negotiate your bills
Step-7
Find the best place to save money
Step-8
Make wise investment
Step-9
Improve credit score
Step-10
Earn extra money
Mistake 6: Not finding grants
Grant money is available for the needy, the students, the researchers, the single parents like single mothers and single fathers. There are certain criteria to become eligible for that money. If you're a newly single parent, then you can find out grants that are specially formulated for a newly single parent.
Solution: How can you find information on grant money?
Almost every year, the Federal government, the state and local government and the Private Grant Foundations distribute millions of dollars as grants. Grants are mainly awarded to the individuals from all walks of life but are mainly for the people who're living a below average livelihood due to lack of money.
The grant programs are not like giving out loans. You'll have to show your income and expenditure proofs, and as long as it's an affordable amount, . You need not pay back this grant money, and moreover these are non-taxable and interest-free.
| Where to get the information | What to consider |
| --- | --- |
| Do some online research to get the information. | Check the eligibility criteria for different types of grants. |
| Check the websites of the federal government, the state and local governments. | Grants are available for low income families, single fathers or mothers or parents. There are student grants, scholarship grants, research grants, child care grants, minorities grants, health care grants, foundation grants, home grants, foreign students, religious grants, farms and farming grants, job training grants, business grants, personal need grants etc. |
| Check the newspapers and magazines for advertisements but you will have to verify if the information is at all authentic. | You need to determine the type that you would like to apply for. |
| Review the Catalog of Federal Domestic Assistance. | You need to verify your income. |
Mistake 7: Not making the right purchase
When you are entering into a new financial life, you shouldn't blow away your money. For instance, you may need a car for traveling, but that doesn't mean you spend all your saving for buying an expensive car. You shouldn't try to impress your friends, a new economy car, or maybe a second-hand car can serve the purpose. Remember, a wise financial decision can help you to build a solid financial backup.
Solution: How can you make a right purchase?
Nobody is perfect, and there's no one who knows everything. You'll learn from your mistakes only. Just try to make yourself more knowledgeable regarding market value before purchasing a big asset like a home, a car. Read good journals, the government website to get updated information. Don't just trust the seller. Remember, , . Check out some important websites to get information:
Final thoughts
Financial mistakes can easily be avoided if you take proper initiatives. You must learn financial lessons to secure your future. Set your own financial rulebook as per your earning and need. You may not be able to fulfill all your wants just after entering into a single life. But, the good thing is you'll never face financial challenges.
Don't miss out: Being a single parent: Some cost-effective special plans to enjoy the V-Day